About Us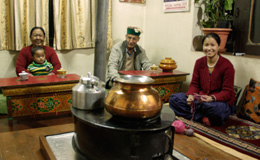 Hospitality is our passion and we know what you expect and need when you are away from home and want to enjoy a great holiday. We are a traditional, family-run establishment, operating in the hospitality industry in this region for many years. We always strive to make your visit comfortable and an everlasting and memorable one.
Keylinga Inn is located 4 km from Manali Town / Mall Road on Naggar road at Prini (near Hotel White Meadows of Mahindra Holidays) in a serene location, surrounded by apple orchards away from the hustle and bustle of the crowd. Our rooms are neat and clean and fitted with modern amenities and high-quality furniture. Our location away from the bazaar means that we can provide a high level of service with very competitive room tariffs. Our restaurant caters to most menus and whips up tasty and healthy meals with a home-cooked feel. Being a family business, our ambience is one of peace and cheerfulness. We look forward to making your stay comfortable and establishing a long and everlasting friendship. Guests can enjoy their food while sitting in our rooftop restaurant which provides a fantastic panoramic view of thickly-forested Himalayan mountains and the incredible Kullu valley.

Manali & Kullu Valley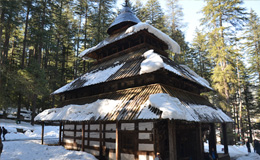 Manali (2060m) is located by the Beas river towards the northern end of the Kullu Valley in Himachal Pradesh in India. It has been named after the Hindu lawgiver 'Manu'. Kullu valley is also known as 'The Valley of the Gods' and is famous for its orchards, particularly apple, plum, apricot and cherry. The famous temples here are Hadimba Temple (dedicated to the wife of Bheema), Manu Rishi Temple in Old Manali and Vashisht Temple (the guru of Lord Rama). The Vashisht area is also famous for natural hot springs. Besides cultural experiences, this part of the valley is also a great place to explore trekking, skiing, rock climbing and other adventure activities.
Naggar, 20 km from Manali, has some beautiful forest trails and is home to the 17th century Naggar Castle, built by Raja Sidh Singh. 51 km from Manali is Rohtang Pass (3900m) - it offers tourists a chance to see and play in the snow and lies on the highway en-route to Leh-Ladakh. Solang valley, about 16 km from Manali, has some huge meadows and is a popular place for people interested in outdoor activities such as paragliding and skiing.